TRIDENT CANCER CENTER CELEBRATES 35 TH ANNIVERSARY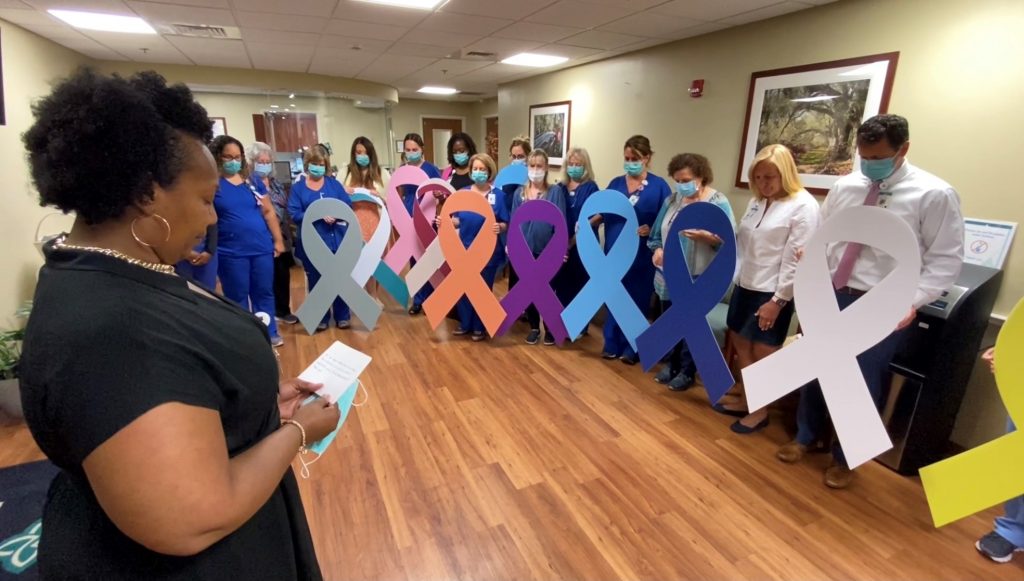 Trident Cancer Center oncologists, staff and patients commemorated National Cancer Survivors Day with a celebration marking the center's 35 th anniversary. Breast surgeon Autumn Shobe, DO, who practices at Breast Surgery Specialists Trident Health, says, "I think working alongside patients fighting cancer is unlike any other experience in a hospital. You truly get to see what the words "hope", "inspiration" and "faith" look like.
Chrystal Wilson, the director of the Trident Cancer Center, has worked with the center's physicians and clinicians for 13 years. " Many people may be surprised to know nearly 600 patients a year choose Trident Cancer Center for their radiation and chemotherapy treatments. We work very hard every day to demonstrate to our patients that we care for them and want to support them during their cancer journey ." Last year, more than 10,000 treatments were provided at the Trident Cancer Center.
Colorectal cancer specialist Cesar Santiago, MD, with Colorectal Specialists Trident Health says the combination of the oncologists and advanced technology at the Trident Cancer Center means his patients receiving radiation treatment in the center are in good hands.
"Treating malignancies and being able to spare the normal nearby anatomy and the preservation of organs is a primary goal in our cancer treatments. As a robotic surgeon who specialize in colon and rectal cancer it is critically important to be able to spare critical organs like the anal sphincters at the time of surgery so patients are not tethered to a colostomy bag for the rest of their lives. When our patients need radiation therapy or chemotherapy, it's reassuring to know that the oncologist and radiation oncologist at the Trident Cancer Center are also using advanced technology to accomplish the same goal treating the cancer and sparing the vital structures around it."
Cardiothoracic surgeon Karen Gersch, MD, who's affiliated with Palmetto Cardiovascular and Thoracic Associates Trident Health says, "As a surgical oncologist whose patients sometimes also need radiation treatment my patients receive excellent and compassionate care at the Trident Cancer Center. The center's radiation oncologists, Dr. Margaret MacDowell and Dr. Todd Williams, do a wonderful job making sure patients begin their treatment quickly after diagnosis."
For radiation oncologist Margaret MacDowell, MD her affiliation with the Trident Cancer Center spans more than 25 years. "It's been the most fulfilling work I've ever done. I'm still amazed and humbled by the strength and courage of cancer patients."
Cancer care, unlike most other diseases, is collaborative work explained Todd Williams, MD, a radiation oncologist who works with Dr. MacDowell at the Trident Cancer Center. "Cancer care often requires a number of specialists such as radiation, surgical and medical oncologists. Through the Trident Cancer Center we have an exceptional group of Lowcountry specialists who know the latest research and can apply it to their patient's needs."
At the Trident Cancer Center treatments include advanced linear acceleration radiation therapy, CT simulation, chemotherapy, immunotherapy, blood transfusions, iron infusion and infusion therapy for the treatment of osteoporosis.
"The Trident Cancer Center plays an important role in diagnosing and treating cancer for many Lowcountry patients. I'm extremely proud to work alongside my other surgical, radiation and medical oncologists as we
apply the most current research and use advanced technology to treat a wide range of cancers, such as breast, lung, colorectal, prostate and cervical cancers, at the Trident Cancer Center," said Dr. Shobe.
At the 35th anniversary celebration event staff and physicians joined the more than 60 patients who were scheduled for treatment that day to reflect on what it means to be a cancer survivor. A moment of silence was also held to reflect on cancer's impact on individuals and their families.
Trident Cancer Center is a part of Trident Medical Center's wide range of services it's provided Lowcountry families for 46 years. The 321 bed hospital is a part of Trident Health, which also includes 124 bed Summerville Medical Center and three freestanding ERs Brighton Park Emergency, Centre Pointe Emergency and Moncks Corner Medical Center.